SDDDalon is all about the business of ongoing trends and changing needs of the customer. So quick updation is imperative to survive and thrive in this business. And Sign Menu enables you to do so. "It is a unique" cloud based menu board design application for in house promotion and display of your products and services.
It only serves the purpose of promotion but can also help as a guide for the customers to decide on the right kind of makeover for them or even acquaint them about the latest in-things in the fashion business. And no magazine or printed material is enough to cover these fast-changing trends.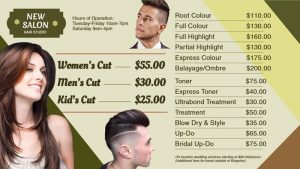 How about you have screen fixed in your Salon outlets that not only shows the rate chart and all services offered in most attractive manner but also plays videos related to your business? And imagine all this can be done all by yourself without any external expert help.
Continue reading "Salon – The right cuts to give a new makeover to your digital menu board with Sign Menu"