Car Service centers are the place where people actually mean business; understand the job, fix it to perfection and get it done in time to deliver. Meanwhile it is also important that your repeat customers get to know about updates offers and new visitors go through the entire offers on servicing and maintenance.
Sign Menu works on similar principle when it comes promotion- understand the need to present the right information, create it to perfection and upload it for display
And to do  this, all you will need a laptop or computer, and a TV and Pendrive. Make the required changes in your computer and laptop and see them appear on the Sign Menu screen.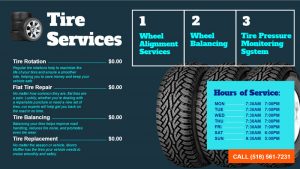 There must be hundreds tools in your service center to fix a vehicle. But to create promotional content, the Sign Menu boards is that one magical transformation tool for you. All you need is just   5 minutes  to  make the required changes in the price and services offered and show updated Menu boards to the customers.
Following Signing up with Sign Menu boards you get access to unlimited templates. All you need to do is put beautiful pictures, logos, menu items to suit your need and upload. Further, if you wish to play videos from the automobile industry or anything else, it can be done too with just an internet connection. Create your own Wonderland customized content, just like that!
The Sign Menu Board displays every last minute change you want to make but also helps you to spread the word among your customers. With cloud-based menu board design Apps you can spread the word about updates and additions to your customers through mail or they can be uploaded to facebook, instagram, twitter etc.