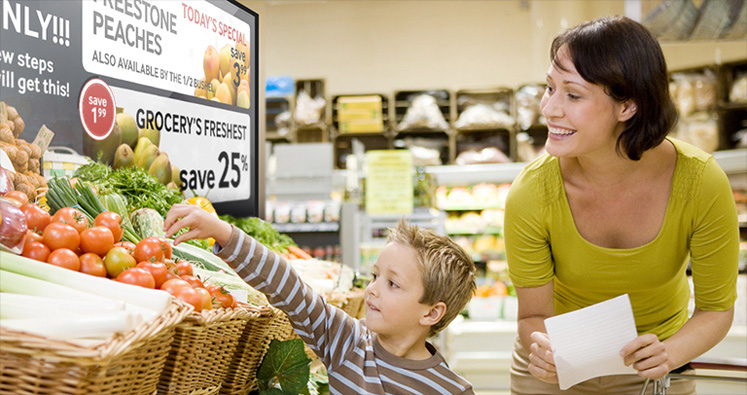 The crux of retail business lies in fast moving products with vast varieties. So it becomes imperative that the products of your retail are displayed in right time and proper attention to attract customers. And Sign Menu empowers you to look beyond the space-consuming cardboard flexes or mannequins for promotion and displays. It is "unique" cloud-based menuboard design application for in-house promotion and display of your products and services. With your products being displayed in a TV screen, along with some videos, it is as lucrative as the offers that you offer during festive season.
So, to begin with, all you need to do is to choose from the large number of templates available at Sign Menu to fit your retail needs. Add beautiful pictures, logos, as per wish and requirement. And all this can be done by you, yourself in 5 minutes from a computer only.  No need to depend and spend on a designer to fix the promotional content for you. A TV screen and Pen Drive is all you need to arrange and upload the promotional retail content for display.
This not only saves you time and money but also allows to take the quality of the promotional content to next level: add videos. Just go for an internet connection and play any relevant video to your retail promotion.
Video menu boards
One of the most remarkable contribution of digital signage are videos. Being a strong advocate of digital signage, Sign menu video templates provide retailers a distinguished way to showcase their products, given that the retailers stock a wide assortment of products, brands and commodities along with groceries. Taking a cue from restaurants the retailers too have realized the novelty in displaying dynamic  visual content to engage customers and increase sales. Sign menu has designed a unique software in video templates wherein the retailers can get to showcase on the digital screen various products, special offers, price discounts, freebies, at all times of the day. These video presentation have an amazing impact on the customers who immensely enjoy the shopping experience. Some may even indulge in unplanned or impulse purchases which only adds to your sales ! Please see the Sign Menu video templates and provide your customers an exhilarating experience !
Image courtesy:  samsung.com